TRE® - Tension & Trauma Releasing Exercises
TRE® is a self-help tool for individuals who might not have access to mental health therapy or other forms of assistance; they simply need a self-help method to self-regulate their own tension and daily stress.

However, for some individuals recovering from chronic stress, anxiety or trauma may have deeper emotional and psychosomatic issues that need professional guidance. In that case, these exercises should not be considered as a stand-alone method. It would be best to include them in a therapeutic session so that you can receive the proper guidance and assistance to deal with deep emotional releases.
TRE® integrates well with traditional therapeutic modalities because it supports healing at the deepest levels of the body, where traumatic responses originate.


Upcoming workshops & 2-day trainings are listed here

Educate yourself as TRE® Provider or attend a 2-/3-day training purely for your own process
(you can attend for own process or to
continue with the certification process)

ONLINE
MODUL 1 two days (divied into 3 days):
March 24 - 26 2023 Online
ONSITE
MODULE I: Stockholm, Sweden
September 30 - Oct 1 2023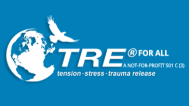 TRE® is a registered trademark with all
intellectual rights belonging to TRE®,LLC
http://www.treforall.org