TRE® Certification around the world...
To be certified as a TRE® Provider, you need to attend six days training (divided into two or three modules) as well as being supervised throughout your process, read required literature and follow up on required assignments.

You can always attend the first Module without any commitment to go through the certification process towards TRE® Provider. You have to follow the Global Certification process to be able to teach TRE® further to individuals and small groups. Required supervision session between Module I and Module II as well as after Modul II before certification can be completed. The process is completed between 12-18 months from start of Module I.

Program requirements
The certification process is to be completed within
12-18 months from the start of Module I

1. Attend in-person training workshop
6 mandatory education days in two versions
You follow one of the two models.

Module I - 2 days followed by
Module II - 2,5 days (

2-4 months post MI

)
Module III - 2,5 days (

3-5 months post MII

)
(current version in Sweden)
Module I - 3 days followed by
Module II - 3 days (min 3 months - max 8 months after participation in MI)
(Current version when DevaLaya is teaching abroad)
2. Personal TRE® process
Minimum four(4) personal sessions supervised by a TRE® CT (2-3 sessions completed before attending Module II)
Journaling of at least 40 personal TRE® experiences
3. Learning TRE® template and teaching TRE®
Structured practice-teaching sessions with family/friends
Teach minimum four(4) individuals TRE® and be supervised by a TRE® CT
Teach minimum four(4) groups TRE® and be supervised by a TRE® CT
Final competency evaluation of a group TRE® instruction (Final assessment)
4. Deepen knowledge and theory of TRE®
Read/watch required books/media and prepare short analysis
The TRE® Certification training program allows individuals who come from a variety of professional and education backgrounds to learn to teach TRE® safely and effectively. Our multi-track certification program allows individuals from a variety of professional and personal backgrounds to become competent and professional certified teachers of the TRE® process.

All individuals who are certified TRE® providers will be listed on this site and you should only receive TRE® guidance from these individuals. Hopefully, this will provide an element of safety and comfort for those who are looking for certified and qualified providers from which to learn TRE®.

To find updated Certification requirements please visit www.traumaprevention.com or go to the Module I & Module II description in the menu on the right side. You can also download the Global Certification Program requirements on the right side top of this page.

Trainings and workshops given by Deva Laya , please look here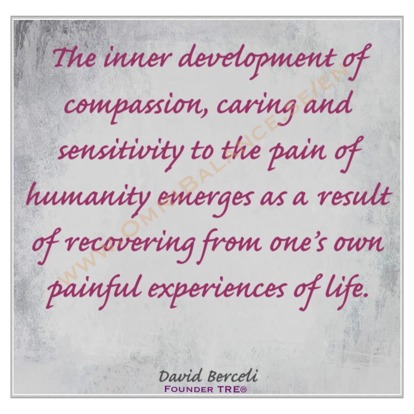 Capacities of a Certified TRE® Provider
Capacity to stay connected to self and others during the TRE® process (groundedness).
Personal experience and understanding of TRE® from own personal practice.
Understand TRE®
theory, and be able to apply theory to practice.
Capacity to lead others through
TRE® safely.
Capacity to identify and respond to specific TRE®
reactions (e.g. freezing, flooding,
dissociation, and others).
Maintain a continued TRE®
self-practice.
Understand own personal and professional limitations, and take necessary actions
and precautions.