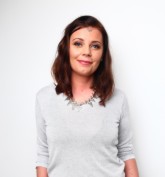 Deva Laya was born in Norway, but has been living and working in Sweden since 2005.

She is a TRE® Certification trainer since 2011, and are today working both as supervisor and Mentor for TRE® Provider Trainees and TRE® Certification Trainer trainees aswell as giving own trainings and individual sessions. Deva Laya also has a diploma as a natural therapist (massage, acupressure, zone therapy, herbs etc).

Additionally, she has been following a leadership program for 1.5 years, which focuses on leadership roles of the future and how they can be sustainable. Throughout her career he has led groups in self-developing retreats, meditation retreats, inner guidance, healing and empowerment among other things.

Deva Laya first had contact with TRE® in 2008, and has been practicing TRE® since then. The excitement and inspiration to use TRE® as a self-healing method both for herself and as a tool in her work with other people moved her to enter the TRE® training program. She is mainly trained by Dr David Berceli & Joan MacDonald.

She is highly dedicated to leading groups and individuals through the TRE® exercises while providing grounding and support. It is with much gratitude and humbleness that she witnesses other people through their healing process.

Deva Laya is engaged in guiding people to find their inner power and also loves to use Crystal Sound Bowls and her voice in her work. One of her strongest visions is to continue being a guide, to support, help and empower people all over the world, especially those who are our future – the children!
Courses and Trainings done with Dr. David Berceli;

Sweden/Norway 2011-2013 Assisted several Level I and Level II and Advanced trainings during the period (Oslo 2 times, Bodö 1 time, Bergen 1 time, Stockholm 3 times)

Jan 2011 - Costa Rica
TRE® Trainer training

Feb 2012 - South Africa
TRE® Trainer conference & training.
Assisted Dr. Berceli's 3-day Level I training after the conference as well as at a school with more than 300 youths participated in a TRE® workshop.

May 2012 - Spain
Assisted Dr Berceli during an event in Madrid

June 2013 - Italaly
Assisted Dr. Berceli during a 5-day TRE® Advanced Training.

Feb 2014 - Austria
Assisted Dr. Berceli during a 3-day Level II training.

Nov 2014 - Brazil
TRE® Trainer conference
(participating)

July 2016 - Phoenix, US
Participating in a 5-day TRE® Advanced Training.

June 2017 - Austria
Assisted Dr. Berceli
during a 3-day TRE® Advanced Training and a full day workshop at the Austrian Military academie

May/June 2018;
Organizer of TRE® Global Summit &
TRE® Advanced Training Dubrovnik,