Deva Laya Guleng
TRE® Certification Trainer
Deva Laya kom i kontakt med TRE® i 2008 och blev redan då mycket etusiastisk och engagerad i vad TRE® gör med kropp, själ och sinne. Hon är tränad av Dr David Berceli och erbjuder idag enskilda sessioner, TRE® grupper samt utbildar personer som önskar jobba med TRE®. Hon certifierades till TRE® Provider i 2010 och har varit TRE® Certification Trainer sedan 2011. Hon är också aktivt involverad i uppbyggnaden av TRE® i nya länder samt engagerar sig mycket i stuktureringen av TRE® internationellt.
I grunden är Deva Laya utbildad inom ekonomi, men gick snabbt vidare från det till att jobba med människor på olika sätt. Hon utbildade sig inom naturterapi, där samtal och att arbeta med kroppen är i fokus. Denna utbildningen stäckte sig över 3 år. Genom 1,5 år följde hon även en ledarskapsutbildning med fokus på framtidens ledarskapsroller och hur dessa kan vara hållbara.
Deva Laya har jobbat med grupper av männsikor sedan 2003 inom olika självstärkande metoder. Meditation och inre arbete är en viktig pusselbit i hennes arbete.
EN

Deva Laya was born in Norway, but has been living and working in Sweden since 2005.

She is a TRE® Certification trainer since 2011, and are today working both as supervisor and Mentor for TRE® Provider Trainees and TRE® Certification Trainer trainees as well as giving own trainings and individual sessions. Deva Laya also has a diploma as a natural therapist where CBT played an important role in the meeting of people (educateion included massage, acupressure, zone therapy, herbs etc).

Additionally, she has been following a leadership program for 1.5 years, which focuses on leadership roles of the future and how they can be sustainable. Throughout her career he has led groups in self-developing retreats, meditation retreats, inner guidance, healing and empowerment among other things.

Deva Laya first had contact with TRE® in 2008, and has been practicing TRE® since then. The excitement and inspiration to use TRE® as a self-healing method both for herself and as a tool in her work with other people moved her to enter the TRE® training program. She is mainly trained by Dr. David Berceli & Joan MacDonald.

She is highly dedicated to leading groups and individuals through the TRE® exercises while providing grounding and support. It is with much gratitude and humbleness that she witnesses other people through their healing process.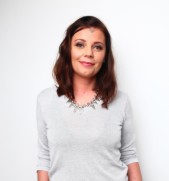 Kurser genomförda med Dr. David Berceli;

Assisterade vid flera Level I/LII kurser i Sverige och Norge under perioden 2011-2013 (Oslo 2 st, Bodö 1 st, Bergen 1 st, Stockholm 3 st)

Jan 2011 - Costa Rica
TRE® Tränar utbildning

Feb 2012 - Sydafrika
TRE® Tränar konferens & tränar utbildning.
Assistent på Dr. Berceli's 3-dagars Level I samt på arrangemang på en skola med 300 deltagare.

Maj 2012 - Spanien
Assisterade Dr. Berceli på ett event i Madrid.

Jun 2013 - Italien
Assisterade Dr. Berceli under 5-dagars TRE® Advanced Training

Feb 2014 - Österrike
Assisterade Dr. Berceli under en 3-dagars Level II utbildning

Nov 2014 - Brasilien
TRE® Tränar konferens
(deltagande)

Juli 2016 - Phoenix, US
5-dagars TRE® Advanced Training (deltagande)

Kommande;
Juni 2017 - Österrike
Assisterar Dr. Berceli
3-dagars TRE® Advanced Training
Deva Laya is engaged in guiding people to find their inner power and also loves to use Crystal Sound Bowls and her voice in her work. One of her strongest visions is to continue being a guide, to support, help and empower people all over the world, especially those who are our future – the children!
Additional CPD, Training and Courses
2006 - 2008 "Naturmedicinsk Akademi" Sweden
(Academy of Natural Medicine)
2006 - Hot Stone Massage 3-day training
May 16th - 17th - Bessel van der Kolk workshop
Breath of Life Conference London
May 20th - 21st 2017 - Stephen Porges workshop
Breath of Life Conference London
July - Aug 2017
Certified Clinical Trauma Professional
IATP/ITTP
January 2019 - Yin Yoga Teacher Training
Spring 2019 - MediYoga Teacher Training
March 2019 - December 2019 - "Sverigehälsan"
(Continuing education covering topics as stress, mindfullness, psycology, CBT methology, communication, pedagogical leadership)